DOUBLE BRAIDED 100% POLYESTER ROPE
Double Braided Ropes 100% Polyester are constructed by braiding a 32/64 strand sheath (or jacket) over a braided core.
Their construction is fit for applications requiring high breaking load and low stretch properties.
They have excellent resistance to abrasion wet/ dry, cyclic loading, sunlight, chemicals and same performance wet/dry.
DOUBLE BRAIDED 100% POLYESTER ROPE -
Applications: Mooring - Anchoring - Towing - Tails
They are produced according to international standards such as DIN EN 14684 MIL-R-24677, CI 1311, BS 7648.
They are user friendly, rotation resistant and easy to splice. Their larger contact area reduces the fatigue on the rope when it spools and when passing through fairleads.
Polyester fibres possess the best endurance among all the high tenacity fibres. These ropes are according to the latest regulations and recommendations of OCIMF for the safe mooring of the tankers.
DOUBLE BRAIDED POLYESTER TECHNICAL DATA

SIZE
(CIRC)

SIZE
(DIAM)

WEIGHT
( +/- 5% )

BREAKING
LOAD

Inch

mm

Kilos/ 100m

Kilos/ 220m

Tons

9

72

395

869

126

9 1/2

76

439

966

141

10

80

487

1071

158

10 1/2

84

538

1184

174

11

88

591

1300

189

12

96

702

1544

226

13

104

825

1815

263
Specific gravity: 1,38
Melting point: 265°C
Zero Strength Temperature: 245°C
Elongation at breaking: 12%
Fibre Water Absorption: 0-1%
50% Strength Loss Temperature: 177°C
Chemical resistance to ALKALI: Excellent
Chemical resistance to ORGANIC SOLVENT: Very Good
Chemical resistance to ACID: Very Good - Will dissolve in H₂SO₄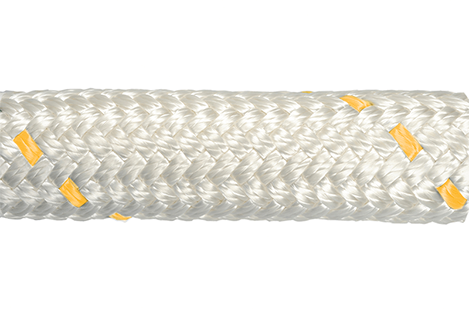 RELENTLESS
PRODUCT DEVELOPMENT
We have made relentless product development the essence of our being. We do that so our customers know that if they are with Hampidjan, using advanced ropes and ultra high performance ropes
– they are using products that are at the cutting edge of known technology.