DYNICE® WARP WINCH ROPES
DynIce Warp is the most advanced patent pending and complex design of a winch line for deep sea lifting and lowering as well as for towing fishing trawls. The rope consists of 6 different layers to make the line with very high cross-sectional stability and axial stiffness.
55 Telford Cct, Yatala
QLD 4207, Australia
(Exit 38 of Pacific Motorway)
Ph: 1300 595 575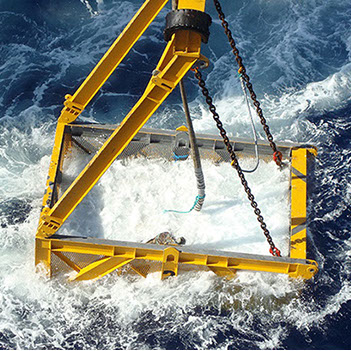 SPECIALIZED HIGH PERFORMANCE DYNICE WARP ROPES FOR EXTREME DEEP SEA LOWERING AND LIFTING
Wire ropes have limitations due to own weight and at extreme depth the weight of the wire itself exceeds the working load limit. DynIce Warp has no such limitations as the rope is lighter than water and floats even though the strength exceeds the strength of wire rope of same diameter. It is excellent choice as winch wire rope replacement.
DynIce Warp is a heat set and stretched rope with plastic core to ensure firmness and roundness and a durable cover of Dyneema overbraid is moulded on the main rope. The main strength member and the cover is braided ensuring that the rope is totally balanced and torque free and will not untwist at any load.
The density is 0,96 and the rope is floating but if needed the density can be adjusted up to 1,20 to ensure that the rope is sinking.
DynIce Warp is proven to use on drum winces both in fishing and offshore and is very suitable
for traction winches.
MV Seabed Worker is equipped with DynIce Warps on a standard winch for operations down to 6.300 meter for salvage operations. The operation would barely have been feasible with steel wire on the winch. The DynIce Warp of 44 mm holds the same strength as a steel wire in same diameter.
This particular DynIce Warp has been given a density of 1,1 and has therefore submerged weight of 1460 kg at 6.300 m.
The DynIce Warp has similar strength as steel wire in same diameter and the axial stiffness is very high or about half of the steel wire stiffness and elongation at break is around 3,5%.
The construction of the DynIce Warp makes it the most advanced high tech rope design available. There are two separate and individual patents pending for this unique high performance rope.
The cover is moulded on top of the rope with new patent pending technology. The bonding between cover and core enables force transfer from the cover and into the rope which is the main strength member. Additionally the bonding prevents the cover from moving or slipping on the rope. Friction coefficient between rope and sheave is increased with texturized and rather fluffy cover surface.
RELENTLESS
PRODUCT DEVELOPMENT
We have made relentless product development the essence of our being. We do that so our customers know that if they are with Hampidjan, using advanced ropes and ultra high performance ropes
– they are using products that are at the cutting edge of known technology.