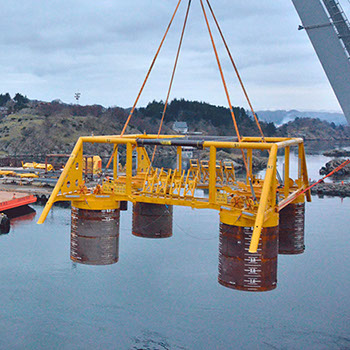 HEAVY LIFTING SLINGS
Engineered lifts require often special made lifting slings which are designed and manufactured to meet the exact requirements in order to secure safe operation.
For each project a special drawing is made showing all details and markings and load rates.
Colour coding of eyes and legs in different color to ensure right selection of slings for the task is made according to customers' requirements.
CUSTOM MADE DYNICE HEAVY LIFTING SLINGS WITH MINIMUM INTERSLING TOLERANCE
Assistance with sling configuration and lifting points design is provided as well as calculation of safety factors according to DNV for each project.
The slings are made with heavy duty protection normally with polyester cover on the legs and then DynIce eye protection in the eyes. The eye protection can be in many layers if needed for extra protection. Eye cover and main leg cover is fixed together by coversplicing so they will stay in place.
Lightweight protection like canvas is also available either in polyester or Dyneema® woven cloth.
When lifting with multiple slings at the same time the intersling tolerance becomes very important especially for low elongation materials like Dyneema® or other HMPE materials.
A intersling tolerance of 0,25% is easily achievable and commonly the tolerance is within 0,15%.
In single leg slings breaking strength can be up to 2.500 mT and in grommet configuration it is possible to make up to 4.300 mT.
All slings are proof loaded prior to delivery with exact length measurements at SWL under our own supervision either in-house or at external testing facilities.
Comprehensive certification package is made for each sling including description, calculations, drawings and all certificates.
Preferably we work with DNV for certification and initial setup of rope sling properties.
RELENTLESS
PRODUCT DEVELOPMENT
We have made relentless product development the essence of our being. We do that so our customers know that if they are with Hampidjan, using advanced ropes and ultra high performance ropes
– they are using products that are at the cutting edge of known technology.